Bass Lessons .com - the bass resource.
Re: new fret board??
---
[ Follow Ups ] [ Post Followup ] [ Acousticbass.com WWWBoard ] [ FAQ ]
---
Posted by Bob Gollihur on February 12, 2001 at 17:04:39:
In Reply to: new fret board?? posted by tim on February 12, 2001 at 16:46:55: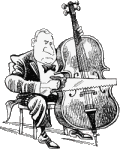 : hi,
: looking for suggestions, i'm an amateur jazz bassist that owns a good sounding kay bass and it needs a fret board badly + bridge. it sounds good but trying to figure out if i should put money into this or go for the glory of an carved bass. anybody knows price of putting a fret board on. anyone know sellers/repairers of uprights in new england area?? thanks tim
Visit my Double Bass Luthiers Directory, link below. It has repair guys all over the world and some in your area.
Kays can be great-sounding basses, and are fetching great prices these days, so even if you invest a few bucks in getting this one up to snuff, even if you decide to graduate to a carved bass, you'll likely get your investment back.

---
---