Bass Lessons .com - the bass resource.
Re: Getting more volume a Realist pickup
---
[ Follow Ups ] [ Post Followup ] [ Acousticbass.com WWWBoard ] [ FAQ ]
---
Posted by Bob Gollihur (68.46.141.176) on August 30, 2002 at 12:29:37:
In Reply to: Re: Getting more volume a Realist pickup posted by tommy on August 29, 2002 at 14:55:33: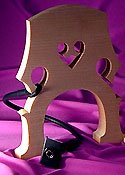 : < but I don't think anyone would recommend it for rockabilly or other styles that require punch and high volume before feedback.>
: I'm having the same problem. Which pickup would you (or anyone else) recommend? Thanks
I use and recommend (and sell K&K pickups, so feel free to suspect my motivations) the K&K Bass Max. Available separately, it is also part of the very popular Rockabilly Slap Special pickup I designed for K&K. Photo is the Bass Max by itself.
I'm not meaning to post an ad, just answering your question. If you have questions about it, please feel free to contact me directly, off the message board.
---
---