Bass Lessons .com - the bass resource.
Re: Best Pickup Around? (2)
---
[ Follow Ups ] [ Post Followup ] [ Acousticbass.com WWWBoard ] [ FAQ ]
---
Posted by Bob Gollihur on February 02, 2001 at 09:14:28:
In Reply to: Best Pickup Around? (2) posted by MattRao on February 01, 2001 at 22:22:21: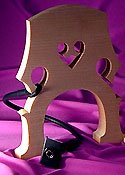 : Hey Everybody,
: I posted a message about this right before the board was cleared, so here it is again... If anyone entered anything before, I would really appreciate it if you could re-post your response. Thanks!
: I'm looking to get two pickups for an upright bass...one for myself and one for my school. The cheesy five-dollar one that I use in school makes my bass sound like an electrified milk jug. Could someone please tell me what they think is the best pickup around (not caring TOO much about price, as long as a student musician could afford it), and one very good one that a school could afford (under $50, probably).
: Also...what effect can the amp have on the sound? I and my school both have GK's...we've tried to adjust them to make the pickup sound better, but there hasn't been much improvement.
: Thanks again for your help,
: MattRao
The K&K Bass Max is only $87 and easily switched between basses, so you could have only one and it could do double duty.
Disclaimer: I sell 'em

---
---