Bass Lessons .com - the bass resource.
Re: feedback problems
---
[ Follow Ups ] [ Post Followup ] [ Acousticbass.com WWWBoard ] [ FAQ ]
---
Posted by Bob Gollihur on June 26, 2001 at 10:20:31:
In Reply to: Re: feedback problems posted by sean p on June 25, 2001 at 12:14:02: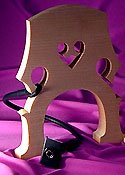 : many thanks for the, uh... feedback, everyone. (okay, that was gratuitous)
: i've heard the eq solution before, but i'm concerned that tuning out a
: particular frequency (or frequencies) would lessen the presence of the bass, or
: maybe just be a cool part of the sound. but i suppose it's better to be heard,
: period.
: i haven't done my homework, apparently - what is a k&k bass max. sounds like a
: pickup...?
yep - see the link below. I include some info on avoiding feedback with all the stuff I sell - I'll paste it into a message and email it to you privately, and hope you find it useful.


---
---