Re: Peavey Cirrus
---
[ Follow Ups ] [ Post Followup ] [ Electricbass.com WWWBoard ] [ FAQ ]
---
Posted by Andrew HoWSeR Howse on May 02, 2000 at 13:25:47:
In Reply to: Peavey Cirrus posted by Steve Lively on April 30, 2000 at 09:28:47: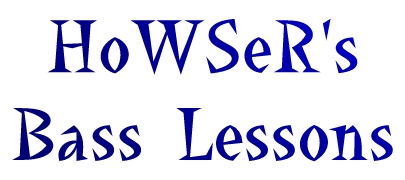 : Need some advice.
: Looking for a new base mostly for rock and a little funk. Been playing
: in a band for about a year with a Peavey Foundation 4 and a Peavey Combo 115 Amp. Want something active so I was looking at an Ernie Ball Sterling. Then I saw this Peavey Cirrus. It has a real good ergonomic feel and tone. Also been looking at a Carver Lb or BB70. At this point I'm really not sure if I need a five string or not.
: Any input would be greatly appreciated.
: Thanks,
: Steve
:
:
If yea thinking of getting a 5 String try a Ibanez SR Series and see if they are to your likeing. I never really tryed the peavey Cirrus. If Your not sure about needing a 5 string ask yourself this. Do I Play any metal? (reqiureing the low B?) Do I find D tuneing and tuneing down 1/2 a step a hassle? I never thought id need a 5 string myself i use a peavey fury till I got my Ibanez SR405 (5 string) I play almost every type of music and i find the extra 5th string very useful. Some songs that require a half step tuneing I can play in standerd tuneing thanks to the 5th string. same goes with songs that need a D tuneing on the 4th string. So it really depends of personal taste. It will be hard at first playing the 5 -string but you will get use to it.
-HoWSeR


---
---