Re: Looking for Stand Up 3/4 Bass
---
[ Follow Ups ] [ Post Followup ] [ Acousticbass.com WWWBoard ] [ FAQ ]
---
Posted by Bob Gollihur on January 05, 2000 at 17:53:54:
In Reply to: Looking for Stand Up 3/4 Bass posted by Mike Branch on January 04, 2000 at 10:41:00: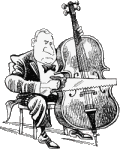 : My 12 year old son is currently playing a school owned 3/4 Stand-Up Bass. It has served him well but is in rough condition. It hasn't had new strings in at least 4 or 5 years and I think the instruments condition is inhibiting his advancement. Also, his bow broke and the replacement is in bad shape. I've considered buying new strings and a bow but wonder if I would be better off to rent (rent to own) or buy rather than invest in something I don't own.
: Although my son complains about having to practice he is proud of what he's learned so far and has recently decided to join a local youth orchestra. I don't want him to get frustrated because of substandard equipment. Any comments and/or suggestions from experienced musicians / parents are appreciated. So far it has been difficult to even find someone that has a Bass to rent so if you know of a company please forward a phone number or address.
: Thanks,
: Mike
Hi Mike-
Luthiers (guys who fix and build basses) are often a great source for used basses, and frankly, once you own one (and children are involved in the equation), you usually want to have one you can trust close at hand.
I don't know where you are, but check out the Double Bass Luthiers Directory I started a couple years ago - http://www.gollihur.com/kkbass/luthiers.html - It is a flock of folks from all over the world; I hope one is accessible to you. It can often be worth a little ride.
You may want to invest in a used Kay or old Englehardt; these plywood basses are best suited to the early teen years, being more resilient (and less expensive) than carved basses. And if you get an older instrument in good condition, it will most likely retain its value come trade-up or abandoned interest time.
There are also a flock of stores and other "bass places" on my Double Bass links page at http://www.gollihur.com/kkbass/basslink.html - which also includes links to a ton of other upright bass resources, including BassLessons.com and this very valuable message board.
Bob

---
---