Re: I'm Gonna Do It
---
[ Follow Ups ] [ Post Followup ] [ Acousticbass.com WWWBoard ] [ FAQ ]
---
Posted by Bob Gollihur on January 11, 2000 at 15:52:28:
In Reply to: I'm Gonna Do It posted by C Robinson on January 09, 2000 at 22:33:17: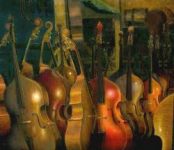 : Yeup!!! I'm a gonna so it. I found a mid 50's German all wood upright ($700)
: and I'm gonna learn to play it. Only problem is I'm a bluegrass guitfiddle
: picker and never played any kind of bass. Can anyone help me with the relative
: finger positioning of these two instruments? I know I've got a lot of work ahead
: of me but, I'm goin to need to learn to read treble cleft notes (I don't
: read music), download some midi files and work with a few stand up players
: I know but any links resources or encouragement would be greatly appreciated.
There are a ton of links available at the URL shown below.
As far as finger positioning and reading music, you'll want to learn bass clef, and there are more than one theories for fingering bass. You might want to pick up Simandl book one, which you can get from Amazon.com, I believe; it is one of the most popular fingering methods, and it includes illustrations and music.
---
---